Yorkville Sound Moves Production of YX Series Loudspeakers back to Canada
January 2014
In a bid to re-shore as much production as possible, Yorkville Sound has moved the production of most of the active and passive loudspeakers in their popular YX Series back to the Canadian manufacturing facility in Pickering Ontario.
Delivering maximum performance in the most cost effective cabinets Yorkville Sound offers, opting for Canadian production means the company can now offer improved quality and reliability in a North American made product for the same price as the previously overseas manufactured product.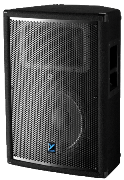 "We're very happy re-shore this popular and cost-effective PA series for a variety of reasons," explains Yorkville Sound Vice President Jeff Cowling. "It keeps our North American facility busy, it provides us a improved time-to-market factor, and gives us more control over quality and performance. The YX series is still a budget oriented series, but the sound and build quality we can provide is extraordinary."
Designed for unmatched performance and long term reliability, YX Series Cabinets use 5/8-inch plywood cabinet construction, all-metal bar handles, metal input plates, integrated speaker mounts and a custom punched and perforated all-metal grilles - an impressive feature set for North American made loudspeaker product at these price points.
All domestically built YX Series cabinets are now shipping, with plans for additional models to be brought back into the North American factory throughout 2014 and beyond.
New 'Made in Canada' YX Series Cabinets include:
YX12C - 200 Watt Program (400 Watt Peak) 12-inch Passive Cabinet - MSRP US $ 349.00
YX15C - 300 Watt Program (600 Watt Peak) 15-inch Passive Cabinet - MSRP US $ 409.00
YX15PC - 300 Watt Program (600 Watt Peak) 15-inch Active Cabinet - MSRP US $ 625.00
YX18SC - 400 Watt Program (800 Watt Peak) 18-inch Passive Subwoofer - MSRP US $ 469.00
---
Downloads
---
Do not send an email here if you are human: Gerroff
Media Contact:
James Greenspan
Marketing/Communication Manager
Phone: (905) 837-8550 ext 257
Email: [email protected]