Yorkville Sound Adds New Powered Subwoofers to the ParaSource Series Active Loudspeaker Line
January 2014
Building on the success of the Parasource Series powered loudspeaker line introduced in 2013, Yorkville Sound delivers maximum bottom end support with a new line of companion active subwoofers.
All Parasource Series powered subwoofers use 15mm Birch plywood cabinet construction for maximum durability and tone. Rugged Ultrathane painted finish, custom designed perforated all-metal grille and all-metal handles ensure maximum long term eliability even in the most mobile live Sound or DJ setup. High power long excursion woofers and high efficiency Class-D amplifier design ensure Parasource series subwoofers are as compact and lightweight as possible, despite their ability to deliver unmatched performance for their relative size.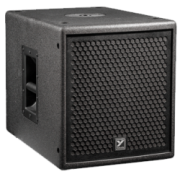 Available in three sizes and power levels, the single 12-inch 900-watt Parasource PS12S sub is the ideal companion for the PS10P powered cabinet making an ultra compact high performance PA for club venues. For medium sized club and concert applications, the 1000-watt PS15S and Parasource PS12P full range cabinet will deliver incredible performance for the size, and will no doubt be the most popular Parasource system configuration. For larger applications demanding unmatched bottom end and punch, the PS18S 18-inch 1200-watt sub and matching PS15P cabinet will be the system of choice for larger mobile and club DJ applications and live sound systems.
All Parasource series subwoofers and loudspeakers are made in Canada, and covered by a two-year unconditional warranty.
PS12S - 900 Watt Program (1800 Watt Peak) 12-inch Active Subwoofer- MSRP US $1499.00
PS15S - 1000 Watt Program (2000 Watt Peak) 15-inch Active Subwoofer - MSRP US $1729.00
PS18S - 1200 Watt Program (2400 Watt Peak) 18-inch Active Subwoofer - MSRP US $1999.00
---
Downloads
---
Do not send an email here if you are human: Gerroff
Media Contact:
James Greenspan
Marketing/Communication Manager
Phone: (905) 837-8550 ext 257
Email: [email protected]