Yorkville Sound Announces ParaSource Series Active Loudspeaker Line
January 2013
The all new ParaSource Active Loudspeaker Series is the culmination of Yorkville Sound's fifty years of innovation and manufacturing experience brought together in one cabinet line.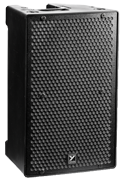 Building on the success of our scalable Paraline Series loudspeaker line, ParaSource Series cabinets deliver superior performance in point source configurations. Manufactured in Canada and designed to deliver maximum performance and unmatched long term reliability, all ParaSource Series cabinets are built using the same rugged high impact ABS cabinet construction as used in the highly successful Paraline Series.
Large Conical horns deliver improved constant directivity and markedly improved midrange response over any competitive cabinets in this class. Highly efficient high headroom Class-D amplifiers, all new resonant mode switching power supply reduces overall cabinet weight while innovative DSP control delivers maximum sonic clarity and response.
Integrated multi-band limiting delivers an extremely transparent and natural listening experience, even at maximum speaker volumes. A switchable bass boost delivers improved bottom end performance and punch without sacrificing midrange clarity or presence.
Innovative cast aluminum chassis with integrated angled heat sinking ensure that ParaSource Series cabinets will operate on any angle, in virtually any environment without need for fan cooling. An all new metal grille design is now more acoustically transparent while large, flared ports minimize chuffing and vent noise.
ParaSource Series Cabinets have improved handle design and standmount adaptors making them the ideal lightweight solution for mobile PA and DJ applications. Improved cabinet geometry ensures ParaSource cabinets will operate ideally as front-of-house or monitor applications. Paintable ABS Cabinet design and integrated flypoints allow ParaSource Loudspeakers to easily be incorporated into any installation.
PS10P - 800 Watt Program (1600 Watt Peak) 10-inch Cabinet - MSRP US $1399.00
PS12P - 1400 Watt Program (4400 Watt Peak) 12-inch Cabinet - MSRP US $1549.00
PS15P - 1400 Watt Program (4400 Watt Peak) 15-inch Cabinet - MSRP US $1799.00
---
Downloads
---
Do not send an email here if you are human: Gerroff
Media Contact:
James Greenspan
Marketing/Communication Manager
Phone: (905) 837-8550 ext 257
Email: [email protected]