Hughes & Kettner introduces GrandMeister Deluxe 40
September 2016
Hughes & Kettner is delighted to unveil GrandMeister Deluxe 40, the world's smartest all-tube guitar amplifier.
An evolution of the groundbreaking GrandMeister 36, the 40-watt GrandMeister Deluxe 40 pairs analog all-tube tone with smart control features, resulting in the most complete all-round, allanalog tube amp head ever.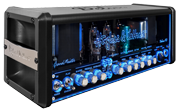 GrandMeister Deluxe 40 delivers uses Deluxe Tone Technology, a pioneering new circuit design developed by the Hughes & Kettner R&D team, and used in conjunction with renowned tone-shaping components inspired by the brand's multiple award-winning TriAmp Mark 3 flagship.
All these deluxe tones are able to reach their full rocking potential thanks to GrandMeister Deluxe 40's technologically advanced operating concept: every knob and switch setting can be easily saved, stored and recalled in up to 128 memory slots at the touch of a button, and the studio-quality on-board effects settings are saved along with the gain and EQ knob values.
The standard Hughes & Kettner technological innovations are also included, meaning GrandMeister Deluxe 40 also contains winning features like an on-board Power Soak, Tube Safety Control and the Red Box AE's outstanding DI speaker simulation. Plus, there's a free optional GM40 EMOTE App for iPad that lets players watch, touch and control all of the amp's features on one handy screen, as well as backing up and sharing their favorite sounds.
---
Downloads
---
Do not send an email here if you are human: Gerroff
Media Contact:
James Greenspan
Marketing/Communication Manager
Phone: (905) 837-8550 ext 257
Email: [email protected]