Innovative and Extremely Versatile Compact Coax Cabinet from Yorkville Sound Now Shipping
December 2014
Yorkville Sound's extremely versatile and completely unique 600-watt NX10C full range cabinet is finally shipping in quantity from the Pickering Ontario (Canada) factory.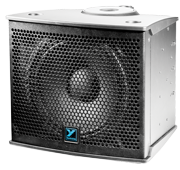 The innovative cabinet design that allows the NX10C to act as a scalable Front-of-House solution, innovative side-fill cabinet, or monitor enclosure was immediately embraced by Yorkville's dealer network. As anticipated, the most compact, and versatile cabinet in the NX Series generated overwhelming orders, and the powered 10-inch coaxial NX10C that can be used in almost any live sound application has been in high demand since its release in summer 2014.
Some of the strongest selling features of the NX10C that have lead to its popularity include the completely unique "through-cabinet" stand-mount design allows multiple NX10C cabinets to be mounted on a single standard speaker stand in a vertical array for very high volume applications. When wider horizontal coverage is required the NX10C cabinets can be rotated about the axis of the pole while still maintaining full phase coherency. Coverage for up to 360 degrees can be achieved.
The NX10C can also be mounted under a conventional Front-of-House cabinet and oriented toward the artist, making it the ideal side-fill solution for tight stages.
The custom rear mounted handle operates as a tilt stand allowing the NX10C to be used as a compact wide coverage floor monitor or center fill cabinet.
Versatile inputs for mic or line level sources with individual volume controls as well as 1/8th-inch TRS jack allow the NX10C to direct connect to any audio source. The NX10C is made in Canada and will be covered by Yorkville Sound's two-year unlimited transferrable warranty.
NX10C - Compact Scalable Full Range Coaxial Cabinet has a $499.00 US MAP, and is now shipping in all markets.
---
Downloads
---
Do not send an email here if you are human: Gerroff
Media Contact:
James Greenspan
Marketing/Communication Manager
Phone: (905) 837-8550 ext 257
Email: [email protected]